These wine gift bags are ideal for giving your wine in and you can add your own personalisation whether you wish to add their name or include a sweet, thoughtful message. Wine is a popular gift to give for many occasions, from giving a bottle of wine as a birthday gift to a friend who loves a drink after a long day at work to giving a bottle to say congratulations on passing an exam.
You will find a variety of gift bag designs below including wine bags for celebrating a certain birthday e.g: a 70th to personalised wine gift bags that you can add just the persons name. You are able to edit any of the wording that you see on your chosen gift bag and you can also add additional text or even images if you wish simply over on Zazzle. You are able to fully customise these gift bags whether you wish to change the colour of the text to using a different font, when viewing this product on Zazzle, don't forget to check out all of the available options!
When it comes to gift giving having personalised gift wrapping adds a special touch to your presents. Take a look at our gift supplies section for personalised wrapping paper to gift tags that you can simply customise with your own images and text. Many of the gift wrapping supplies can be purchased in different styles and sizes too!
The products are affiliate links & you will be taken off Your Ideal Gifts to make your purchase, we may earn a small percentage on each sale.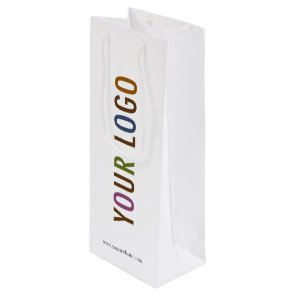 Custom Paper Wine Bag